The Birth Of Frago
Frago, originally started in Leadwood, Missouri in May of 2014. It was started after brothers Johnny Frago and Jacob Frago were signed up without warning, to play a concert in Bismarck, Missouri. Their friend Marie told them they were signed up to play for two hours at Bismarck's annual event called FreedomFest. Jacob strongly encouraged Johnny to come up with songs they could play at the event instead of cancelling. Johnny, while still busy in college, agreed to do it. Johnny recruited a bass player and photographer for the show. They arranged thirty songs to play and on July 4th, 2014, Frago was born. The name, originally being "Golden Ticket" was changed by the brothers after encouragement from their bass player at the time. Although members have changed in the past, the Frago brothers have remained the original line-up. They get their unique yet familiar sound from a combination of punk, rock, and grunge influences, all while being put inside a two-piece band box. Frago is a band to be enjoyed by everyone. No matter the person. The mission of this band is to create the best rock music possible and bring people together through it. 
Johnny
Johnny Frago, born in 1995 in Festus, MO and raised in Leadwood, MO, packs a huge punch of sound with his showmanship, screaming guitar tones and vocal ability. He is the middle child of three children. Originally, by his own words, he said he was first forced to play when his parents said it was family tradition and everyone had to take lessons in something. He chose the guitar because he saw the Jonas Brothers on live TV and thought if he was going to learn anything, it would be that. He was ten years old. After six months of lessons, his family was unable to afford them and he began teaching himself until he reached the age of seventeen. He followed that up by enrolling at Mineral Area College(MAC) on a full music scholarship. Johnny obtained his Associate of Arts in Music Performance from Mineral Area College in 2015 and has played in many bands, ensembles, and other musical groups that include MAC Guitar Ensemble, MAC Jazz Ensemble, West County R-4 Jazz Ensemble, MAC Jazz Combo, MAC Singers, MAC Community Singers, West County R-4 Concert Band, MAC Studio Band and a band he was previously in called Static Impulse. He was recognized as "Outstanding Music Student" in 2014 by Mineral Area College.  He has also played guitar for musicals, has a continuously growing repertoire of jazz and classical music, and has led various bands including his own solo projects. He taught guitar, bass, and vocals at Marler Music Center in Park Hills, MO, and was the instructor for the guitar ensemble at St. Paul Lutheran High School near the beginning of his career.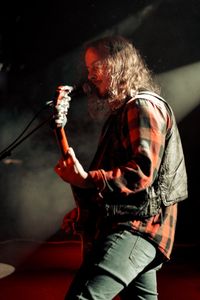 Jake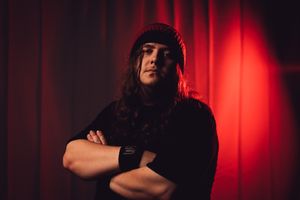 Originally from Ellington, Missouri, Jacob spent most of his time growing up in Leadwood, Missouri. He is the youngest of three and hits the drums harder than most drummers you know. Jacob started playing by default. The church his father pastor'd was in need of a drummer and he was determined to play the drums rather than hearing his dad try to play. Being homeschooled, he had a great amount of free time, while others were in public school. This gave him a desire to go deeper in experimenting with his drums. After learning a little bit here and there from multiple instructors, he began teaching himself and encouraged Johnny to start a band with him. With a strong family history of being gifted in musical and vocal abilities, his musical abilities began to be honed in singing and percussion. Jacob and Johnny were challenged, by a lady they knew in May 2014, to play for the Bismark Freedom Fest as the band name of Golden Ticket. This was before the name change during the following month. Jacob, the youngest one of the band, is the original founder of the band.