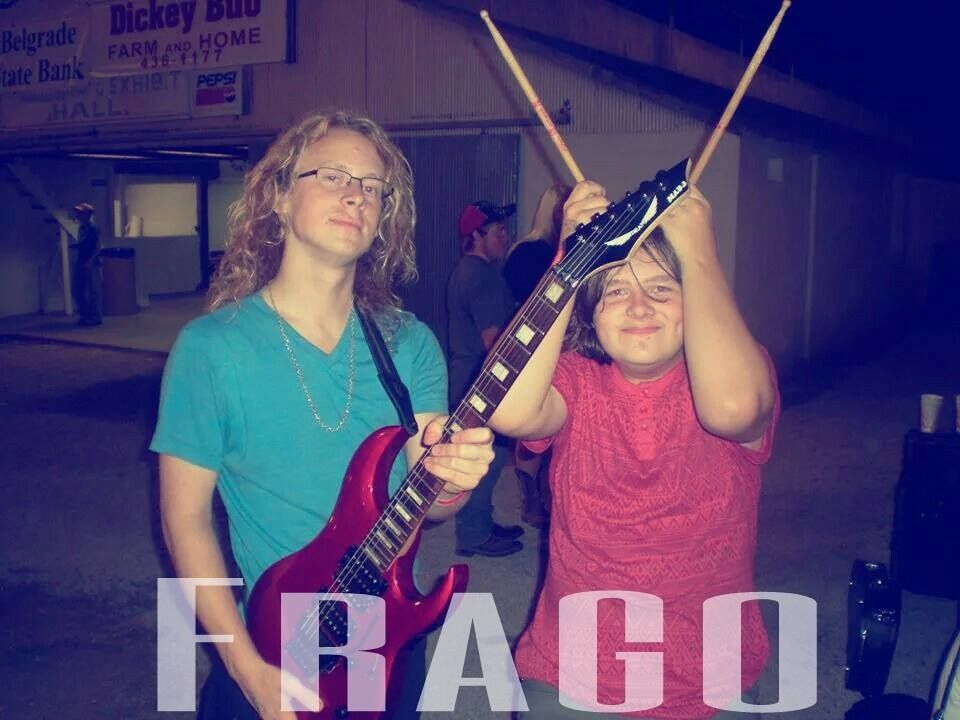 The Frago Brothers backstage at one of their first performances, The Washington County Talent Show. 
---
Many artists gather inspiration from many different avenues. You never really know when it's going to hit you; when that next melody line or riff is going to pop into your head. Sometimes, it's right on time. Other times, it's while you're in the bathroom or at a board meeting and you can't get up and shout it out for everyone to hear. Oasis' song Champagne Supernova lyrical idea when Noel Gallagher misheard The Pixies album name "Bossanova" while watching a documentary about champagne. He then came up with the phrase "Caught beneath the landslide" based off of a sugar jar placed in his girlfriends kitchen. That same jar is pictured in the booklet of their album (Songfacts, LLC). Frago's songs are much the same. They're mainly inspired by things in our lives. Now while the title of this article may seem a little frightening considering we're all males in this band, let not your heart be troubled. There is a method to the madness. You're about to hear the song that started it all. 
Pictured on the right, from left to right, is Jacob Frago, Johnny Frago, and MJ Benz, at a radio interview for 107.1 The Zone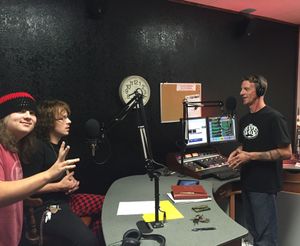 promoting their debut EP. They were the first artists to ever be interviewed on this station! 
Early when the band started it was just Johnny Frago and Jacob Frago. They were the main songwriters, musicians, marketers, everything. "I had always wanted to be a huge rock band touring the world. However, I didn't have any intention of being anything more than a cover band. Everyone in our community said it was impossible to make a living at all with original music. And as much as I don't idolize making money, I need to eat." Johnny shares. Jacob had different intentions though. He knew that he and Johnny had something. In an interview with Jacob, he explains that "At first I just wanted to jam, but as I got more into it, I discovered my favorite bands and drummers -- aka, Nirvana and Dave Grohl. I felt very excited to get into the world of music. I wanted to be like my hero's and make my own music." Jacob, as much credit as he deserves for starting the band, knew that he didn't want to be the leader. He knew the Johnny had what it took and would love doing it. He encouraged Johnny to lead the band and eventually, Johnny became the unofficial leader of the pack by default. 
When they first started writing music together, Johnny would start playing a riff and Jacob would drum to it. That's how it usually worked. They wrote a few songs here and there rotating between playing video games and writing riffs. Neither of them really worried about lyrics at that point. Johnny tried a few times but didn't feel confident enough in himself to finish any of them. They tried finding a lead singer at the time because it was intended that they would be a four piece. Singer, Guitarist, Bassist, Drummer. After a lot of consideration, and a crap ton of auditions, Johnny swallowed his pride and agreed                   
to be the singer and guitarist. Though now he wouldn't give the singer spotlight to anyone else, it was a struggle for him to even talk in front of people, let alone sing.  
Now for the moment you've all been waiting for. You keep asking yourself, there hasn't even been any mention of a tampon in this article. This doesn't make any sense. Well, here's your moment.  
As Johnny and Jacob got more into song writing and overall band work, their inspiration sky rocketed. One inspiring moment being when Jacob was watching TV and came across a tampon commercial and couldn't help but bob his head to the background music. He quickly got up and tried to jam what he could of it before Johnny got home from his college classes. When Johnny got home, Jacob quickly ran up to him and said "Hurry, get on your guitar! I have an idea!" Reluctantly, Johnny put on his guitar and started trying to jam whatever Jacob was telling him. Jacob kept trying to explain it but couldn't think of the terminology to explain it well. So Johnny actually reversed the the chords on accident and Jacob just gave up trying to explain and got on his drums and started playing along with what was playing. After they jammed it a couple times, constructed it, and knew what parts went where, Johnny tried writing lyrics again. "This time I'm just gonna write whatever's on my mind and that's gonna be it. I don't care." Johnny said. He wrote all the lyrics to Frago's song Let's Go in about 15 minutes. He put the lyrics on a music stand, and they played the entire song from top to bottom over and over and over again until it was perfect. They recorded it a few months later and it appeared on YouTube first, following their debut EP Release simply entitled "Frago - EP" 
Listen to the song here:
Other Videos:
As you can see, inspiration can come from anywhere. Whether it's from a sugar jar, a misheard lyric or word, a push or shove into the right direction, heck, even a tampon commercial. Never take your inspiration for granted. It is the fuel that drives the spirit of success. "The song is pretty simple lyrically." Johnny shares. "It's basically just about going out and having a good time in real life and not just sitting at your computer or your phone all day. Don't get me wrong, I love technology but you still gotta live a little."  Check the song out on Spotify, iTunes, GooglePlay, Amazon, Soundcloud, and all other major music streaming sites and distributors. We'll see you at the next show! 
Written by Johnny Frago, Updated January 23rd, 2020
Copyright Frago Entertainment 2020
Sources and Citations: 
                 -  " "Champagne Supernova: Songfacts."  Songfacts, LLC. Retrieved 2018 from http://www.songfacts.com/detail.php?id=3495 "